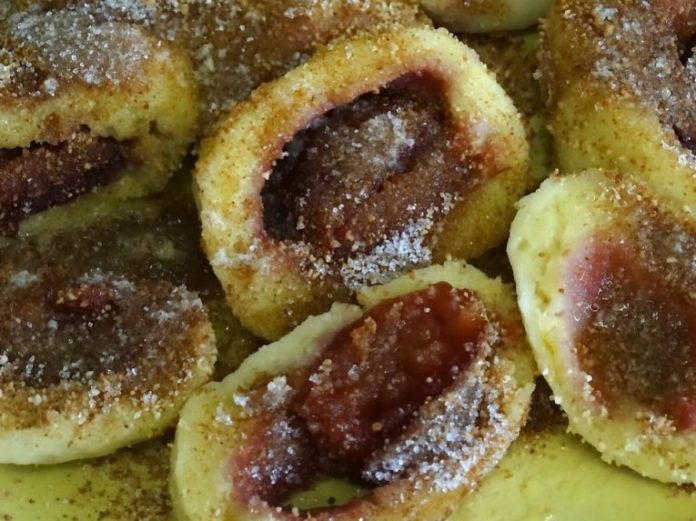 Number of dumplings: 10-12 pieces, depends on size

We'll need:

200g oat flakes
3 medium-sized boiled potatoes
pinch of salt
15 pitted and split plums
2 tablespoons honey
150 ml of water
Directions
Put a pot of water on the stove to and heat it up. Meanwhile, as the water is getting boiled, let's prepare the dumplings 🙂
Pour the oatflakes into the jar and grind it to powder with an immersion mixer. Add 3 cooked mashed potatoes and some salt. Mix it all together using your hands, so that the formed dough do not stick or spill. Then soak your hands and take the dough. On the palm of your hand, create a sort of pancake in which you put a half of plum. Make a ball out of it, and then roll it a bit using your moistened hand. When we have all the dumplings finished, put them in the water and boil for 3 minutes.
Once the cooking is done, pull the dumplings out and let it cool down. Cut the remaining plums into small pieces, put them in the pan, add some water and stew it a bit. After softening, add the honey and stir it until the honey caramelizes. We have a plum sauce as a result. Now you can put the dumplings on a plate and pour the caramelized plum sauce on it.

If you don't like a sauce, feel free to sprinkle the dumplings with grated coconut, poppy, nuts or hot cocoa ♥

Bon appetite darlings ♥♥♥♥

Recommended consumption during weight reduction: for breakfast, or snack / second breakfast (only if we've had low-carb, high-protein breakfast)