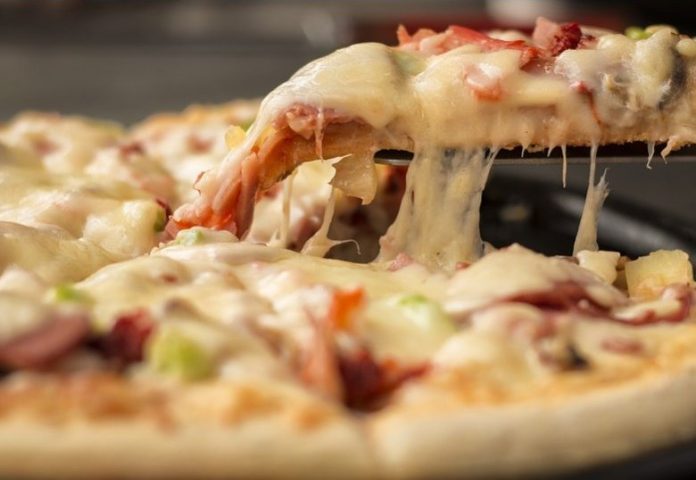 Pizza !!! Yummy, tomatoes, ham, chilli and the divinely baked cheese 🙂 It tastes so gooood you simply can't resist.
Do you also love pizza like me? But for various reasons, can't you afford it? Don't worry, here I present you a healthier and, in my opinion, also tastier alternative 😀 😀 😀
We need this for dough:
150g oat flakes
2 eggs
salt
seasoning
ground garlic
oregano
100 ml of water (if the dough is too dense, pour 50 ml more)
Ingredients for pizza:

ham
cheese
tomato paste (I used my own production without preservatives)
tomatoes
onion
red pepper
chilli
garlic
oregano
You can add ingredients to your taste 🙂
Directions:
First of all, heat the oven to 150 degrees. Put the baking paper on the baking sheet and spread some coconut oil. We will continue by mixing all the ingredients using an immersion blender and pouring them onto the prepared baking sheet. Spread the mixture evenly with a spoon and bake it for about 5 minutes. Meanwhile, cut the vegetables into small pieces.
As soon as we have a matte finish on the pizza batter, we pull out the baking sheet. Spread with tomato paste, sprinkle with oregano, fresh garlic, add ham, vegetables and grated cheese. Finally, put it back in the oven and bake at 150 degrees for about 10-15 minutes.
TING – We got the pizza, yummy. Now just cut, sprinkle a little chili and get stuck in. ENJOY YOUR MEAL ♥♥♥♥♥♥♥
Recommended consumption during weight reduction: on a training day as breakfast or as a lunch menu.
See also this video: healthy pizza